Alma Heikkilä
pollen grains, fungal spores, bacteria, mycelium, cysts, algal filaments and spores, lichens, insects and their parts, plants and animal tissues and several other microorganisms
Taking a close look at the relationship between humans and matter, Alma Heikkilä's work focuses on the conditions of visibility for both the human and nonhuman. This work consists of a large-scale vertical painting installed in the middle of the room. The partly translucent painting is surrounded by small objects of clay and plaster, some of which look like a network of growing mushrooms, while others are reminiscent of human body parts. There are some ready-made objects too, like the book Philosophy of Microbiology by Maureen O'Malley. The scale of the large orange painting invites the viewer to drift through the abstract fields of the material states they portray, from vaporous luminescence to atmospheres of striking rays of light. At the core of the work is the notion that there is no clear border between "individuals", that we cannot live independently from others, there is no vacuum on the planet.
Rejecting the privileging of human existence over non-human existence, she has explored, in a number of paintings, microbiota: they can be found in and on all multicellular organisms studied to date, from plants to animals, forming "microbial communities". Only visible with microscopes, they are known to be crucial for the immunologic, hormonal and metabolic homeostasis of their host. The human microbiota includes bacteria, fungi, archaea and viruses—all plants and animals, from simple life forms to humans, live in close association with microbial organisms. Drawing inspiration from Timothy Morton's book Hyperobjects: Philosophy and Ecology after the End of the World, Heikkilä's work addresses the complicity of humans with their material surroundings, which are interwoven with human and nonhuman agents at play. In an age of mass media, non-visual events such as climate change remain underrepresented; hence the dispute over the tools for visibility and the necessary conditions for recognition. ML
Alma Heikkilä's work for the Art Encounters Biennial was possible with the support of Frame Contemporary Art Finland.
Alma Heikkilä (b. 1984, Pälkäne) lives and works in Helsinki. Heikkilä's painterly, sculptural and spatial works materialize merged agential aspects of humans, non-humans and infrastructures affected by the various dimensions of the global ecological crisis. She completed an MFA at the Finnish Academy of Fine Arts in 2009. Her work has been presented recently at Tensta konsthall, Gwanju Biennale 2016, Museum of Contemporary Art Estonia (EKKM), 14th Vilnius Painting Triennial, Norrköping Art Museum, EMMA Museum and Gallery AMA. Heikkilä is the co-founder of Mustarinda association whose goal is to promote the ecological rebuilding of society, the diversity of culture and nature, and the connection between art and science.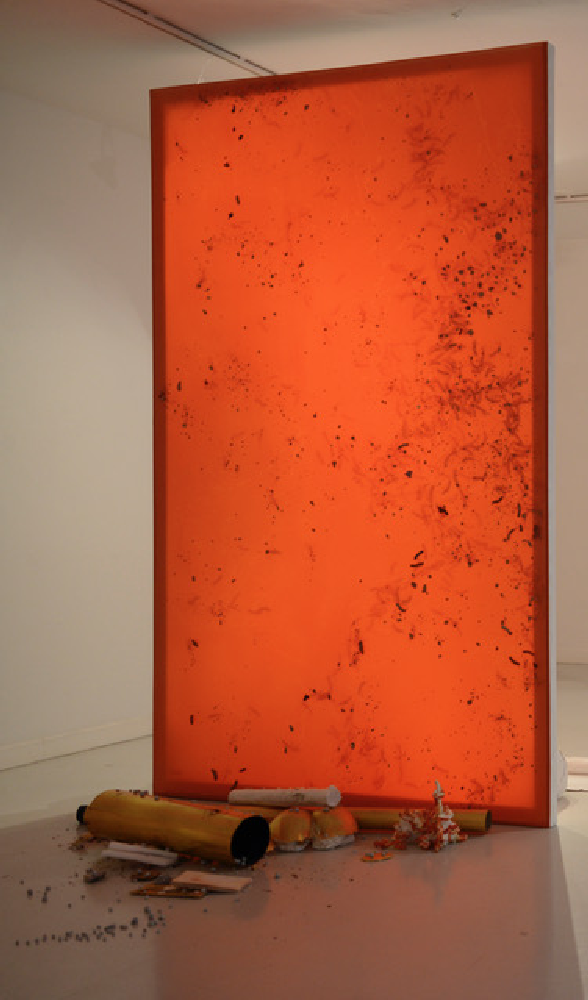 Alma Heikkilä, pollen grains, fungal spores, bacteria, mycelium, cysts, algal filaments and spores, lichens, insects and their parts, plants and animal tissues and several other microorganisms, 2017, ink and acrylic on polyester, cotton, oak, iron, plaster, polyethylene, paper, cardboard, installation view from none are truly separate, courtesy of the artist