Ahmet Ögüt
History Otherwise: Ottoman Socialist Hilmi and Ottoman Women's Rights Defender Nuriye
Making the invisible visible is something that often happens in the work of Ahmet Öğüt. For the Art Encounters Biennial 2019, he has made an illusionistic painting placed in the middle of a pedestrian street in the city center of Timișoara. It is the poorly visible Ottoman history of the city which is evoked here: the Turkish ruled the city from 1551 to 1716 but there are very few visible traces in the urban landscape. Neither is the heritage alive among the inhabitants. Having consulted local historians and visited the rare remnants from the Ottoman era, Öğüt has revived this history, emphasizing two aspects which are "doubly" invisible, namely the Socialist heritage and the women's liberation movement.
The painting shows, in the fashion of an archeological dig in the ground, an Ottoman style living room decorated as the meeting room of the Ottoman Socialist Party (1910–1913), founded by Hüseyin Hilmi Bey (1885–1922). The founder is there himself, and next to him is Nuriye Ulviye Mevlan Civelek (1893–1964), one of the leading founders of the Ottoman Society for the Defence of Women's Rights (1913). In the Ottoman society of the late 19th-century, a small circle of educated women started to become involved in public debates about women's rights. A feminist Ottoman magazine published, operated and owned entirely by women ran several issues in Istanbul between 1913 and 1921. This was the first magazine to publish a photograph of a Muslim woman without a veil and with a name, which makes it a significant source for the history of the feminist movement.
Ahmet Öğüt (b. 1981, Diyarbakır) lives and works in Amsterdam. He works across a variety of media, often picking up on an urban environment. With an eye for daily encounters and moments of improvisation, his works address topics such as structural inequality, state suppression and forms of resistance. Collective struggles and singular acts of non-alignment equally inspire the aesthetic and thematic reflections that occur in his work, just as the way he operates in the institutional ecology surrounding his practice. He is the founder of The Silent University. Selected exhibitions: The Missing T, untilthen, Paris (2018); Hotel Resistance, KOW, Berlin (2017); Goshka Macuga & Ahmet Öğüt, Witte de With Center for Contemporary Art, Rotterdam (2017, solo); Action!, Kunsthaus Zürich (2017); Museum On/OFF, Centre Pompidou, Paris (2016); Forward!, Van Abbemuseum, Eindhoven (2015, solo); Happy Together: Collaborators Collaborating, Chisenhale Gallery,  London (2015, solo); Political Populism, Kunsthalle Wien (2015); Performa 13, The Fifth Biennial of Visual Art Performance, New York (2013); Tensta Museum: Reports from new Sweden, Tensta Konsthall, Stockholm (2013); Ahmet Öğüt, Protocinema/Itinerant, New York (2012, solo). In 2016, his works were exhibited at the 11th Gwangju Biennale, the Okayama Art Summit, and  Manifesta 11, Zurich. Previously, he participated at the 13th edition of Biennale de Lyon (2015), the 19th Biennale of Sydney (2014), the 7th Liverpool Biennial and  Bucharest Biennale 5 (2012).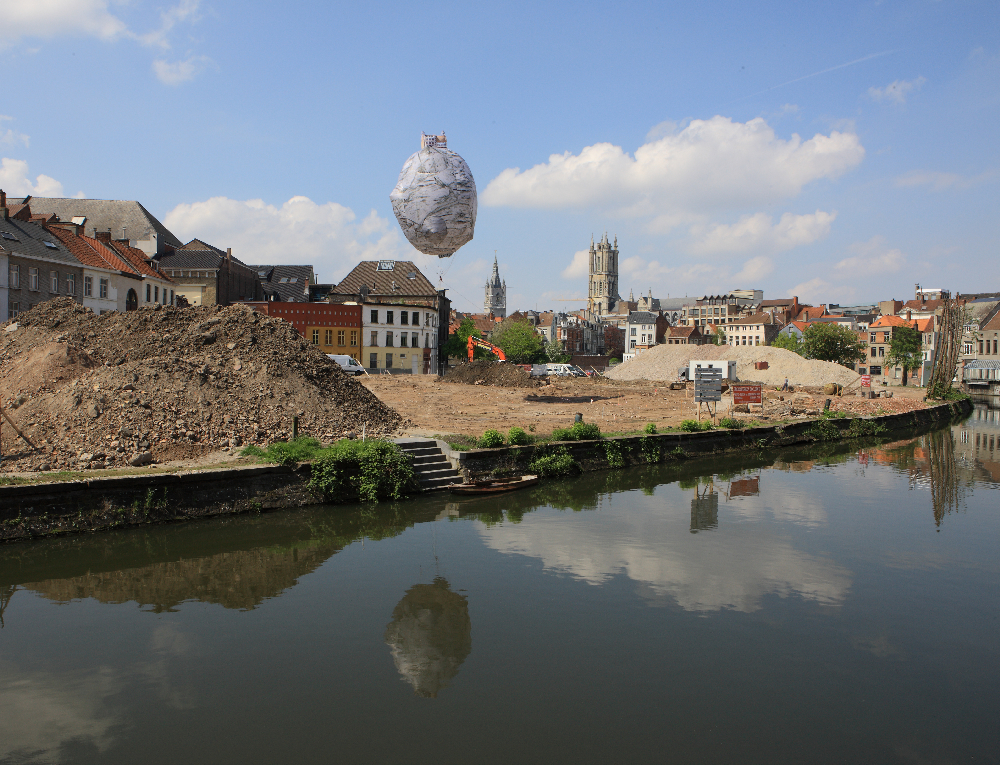 Ahmet Öğüt, The Castle of Vooruit, 2012, helium-filled balloon floating above the ground at a height of 11 meters and diameter of 8 meters at Waalse Krook, Ghent, commissioned by S.M.A.K. for TRACK, courtesy of the artist, photo credit: Dirk Pauwel